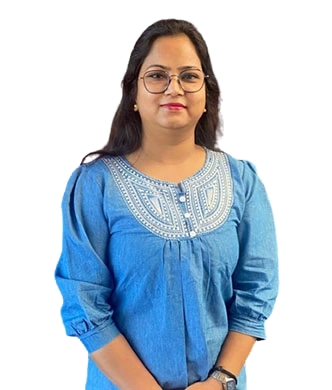 Nidhi Gupta
nidhi.gupta@mahindrauniversity.edu.in
She is pursuing her Ph.D. in department of English & Modern European Languages from University of Lucknow; her Thesis Title is "Le concept de la liberté et les images des femmes dans les oeuvres de Claire Gallois ". her main skills are literature, Translation and Communication.
Banaras Hindu University
She holds a Master degree in French Literature from Banaras Hindu University
Bachelor's degree in Sociology Honours from Banaras Hindu University
Sampurnanad Sanskrit University
Advanced Diploma in French from Sampurnanad Sanskrit University.
Amity University
Worked as Guest Faculty French in Amity University Raipur. She has expertise in translation of business and technical document. She worked as a French Translator with short term projects as a contractor.
2020
Defis et probleme d'enseignements du Francais une( langue etrangere) aux etudiants inscrits aux divers programmes professionels in International Seminar organized Banaras Hindu University, 3-4 January 2020.
2019
Attended workshop on Understanding Gender for Empowerment and Change was held on October 16 2019 , the resource person was Divya saxena Dean of Liberal Arts Dehradun. In Amity University Raipur.
2018
Presented paper '' L'illustration des femmes immigres dapres la guerre d'algerie dans les ouvres d'assa Djebar in International Seminar on Migration, Memoire et Mutation: Passage en Imaginaire organized Banaras Hindu University, December 6-8 2018.
2017
Presented Paper: Une description d'une vie quotidienne de la famille francaise par une americaine dans la literature francaise et francophone oraganised by Bnaras Hindu University, Feburary 23-25 2017.
Gender inequality; early France, women and gender; age of revolutions, WW2 role played by French Women during II-word war, their collaboration with German soldier and its consequence, translation and pedagogy.