Mahindra e-hub (Me-H) is an integral part of the Centre for Entrepreneurship and Innovation (CEI) at Mahindra University (MU).
Mahindra e-hub Incubation Program
The Mahindra e-hub Incubation Program is specifically designed to help early stage to mid stage start-ups looking for accelerating their pace & scale up. Entrepreneurs joining Mahindra E Hub are provided with the best opportunities and knowledge to refine their idea, launch their enterprises, grow it into scalable business. The duration of the program is three months. Participants can get a chance to connect, contact and get to know the professionals and investors from different sectors. Mahindra e-hub would periodically also conduct short duration certificate programs in entrepreneurship for potential entrepreneurs from outside of the University who are having innovative business ideas.
Incubation Facility
The Incubation facility at CEI has been set up intending to harness the intellectual potential and the spirit of enterprise among the students, faculty, and alumni of the university.
It also intends to nurture those who want to solve social, economic, and civic challenges through technology cutting across various sectors of the economy. At its core, e- Hub is a technology-based incubator that is industry agnostic and is driven by critical thinking, innovation, and a spirit of enterprise.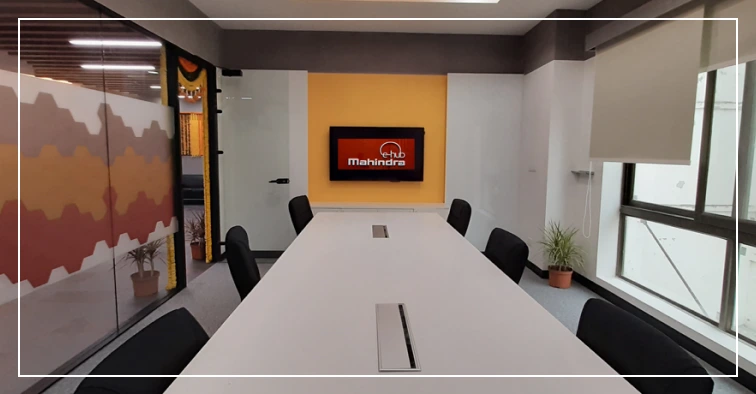 Mahindra e-hub offers you:
Facilities
Mahindra e- Hub (Me-H) is spread over 2000 sq. feet of area, which can accommodate 15 entrepreneurs. The incubation Centre facilitates through starting, shaping and scaling up innovative ventures resulting from student-faculty research.

Some facilities offered are:
Operation Model
The increasing interest among students, faculty and alumni in pursuing their innovative ideas and treading the path of entrepreneurship has led to the creation of one of the kind operational model of incubation at Mahindra e-hub. The model includes three phases – pre-incubation, incubation, and graduation.