B.Tech in Mechanical Engineering Join the most powerful workforce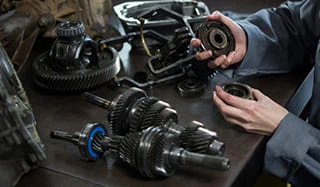 Mechanical engineering is one of the most popular branches of engineering. Being one of the early engineering streams, it is prevalent and enjoys a reliable employment-oriented branch reputation. This is mainly because mechanical engineers have an enormous scope to create technologies that meet human needs. The skill sets are put a great use amongst several industries that combine creativity and knowledge to shape an idea into reality with the help of analytical tools.
In addition, the four years of mechanical engineering help students understand various nuances of the field such as design, development, construction, and testing mechanical and thermal sensors and devices, including tools and machines. Mechanical engineering education is versatile as it is ingrained in many innovations and challenges across many fields. Like every other country, India has progressed to give many of its students world-class education. However, while the government and universities have put in some substantial efforts, only a few universities have met the demands of the diverse and rapidly changing technological challenges that society faces.
Students who pursue B.Tech in ME benefit from this unique combination of cutting edge academics & practical experience, making the candidates have better career prospects. Upon successful completion of this course, students can get a job in various sectors such as:
Automobile
Aerospace
Railway coach factories
Chemical manufacturing plants
Research and development industries
Oil exploration sector
Why is choosing the right university important?
Though the Indian education industry has several options, choosing the right B.Tech in Mechanical Engineering for superior prospects is imperative. Besides the curriculum, the right university provides hands-on experience with their state of the art machinery in the high-tech labs. Such universities also have industry collaborations that enable students to maintain pace with the industry's dynamic needs. One such university is Mahindra University. Mahindra University École Centrale School of Engineering (MU) collaborates between Mahindra Group and École Central Paris.
The Department of Mechanical Engineering at MU houses six labs equipped with machinery to train students in various aspects of the mechanical engineering course. The experimental equipment helps students in:
Conducting fluid mechanics experiments
Heat transfer experiments
Dynamics and vibration experiments
Turbomachinery experiments
The Centre for Robotics at MU helps students and researchers generate new ideas and innovations in robotics. In addition, other laboratories such as Fluidics and Heat Transfer Laboratory, Materials Testing Laboratory, Mechanical Workshop and Basic Mechanical Engineering Lab ensure that students become forward-looking thinkers and innovators.
Moreover, the faculty at Mahindra University are hand-picked from the best institutions and universities of the world to give the students the edge they need to excel. In addition, MU attracts a steady stream of international visiting faculty from École Centrale and its partner institutions.
The curriculum at a glance
The core courses of Mechanical Engineering involve basic and advanced knowledge in fluid mechanics, thermodynamics and heat transfer, Computer-Aided Design (CAD), Computer Integrated Manufacturing (CIM), solid mechanics, materials engineering, manufacturing, energy systems, dynamics and control, etc. For specialisation in the design of machines, engines, thermodynamic systems or advanced industrial engineering and management, five electives – accounting for 15 credits- can be opted from professional or open courses. The MU curriculum also equips students to experience international and inter-cultural contexts. The holistic and interdisciplinary education at MU combines knowledge from core principles of Mechanical and allied engineering disciplines with humanities, ethics and management.
Post programme, students get placed in leading global multinational corporations. In addition, they also get a global edge as MU has various Global Academic Internships options at Georgia Tech, University of Florida, UT Austin – USA, ENS France; CentraleSupélec, Paris and many more renowned universities worldwide.
Evolving with the time
The pandemic reminded the global populace that education needs to be more relevant and capable of assimilation in a virtual mode than ever before. Students' lives should not come to a halt with such a crisis; in fact, they should be trained in a manner that helps them stay relevant across decades. Mahindra University comes with a legacy of excellence that aims to train students in exceptional engineering education by offering industry-aligned undergraduate B.Tech courses that are globally relevant. How a country shapes up depends significantly on the kind of knowledge being imparted to students. If they are highly skilled and proficient at what they do, the country will automatically be set on a path to success and glory. With Mahindra, get ready to become the engineer of the future.