Do You Want to Pursue Law as a Career? Take BA LLB Hons Course at Mahindra University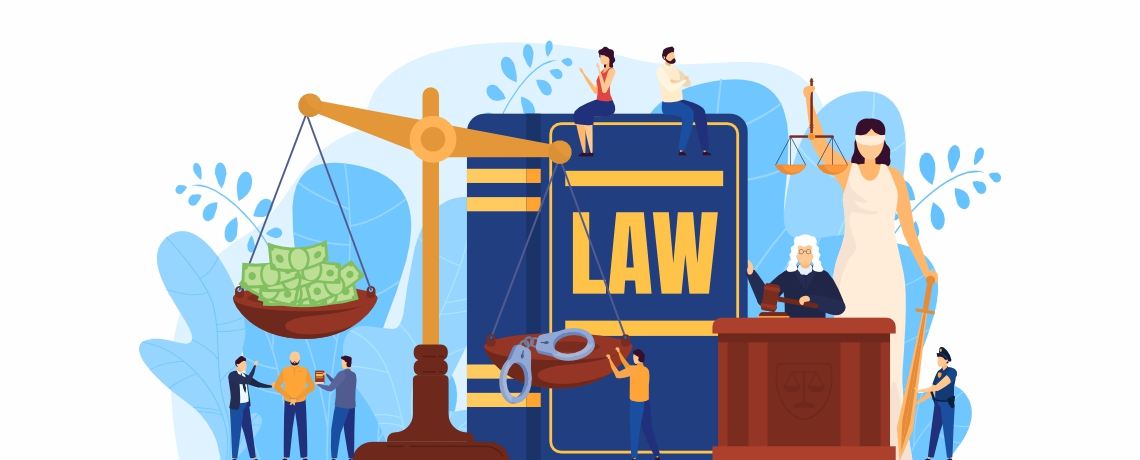 After completing their 10+2, students are often confused about choosing a higher qualification degree. However, making the correct decision by choosing the right course or career is essential for students as they do not get to take the decision twice. Therefore, the decision regarding the right course, career option, specialisation, and which college to choose are some of the main concerns of every student after class 12th.
Legal education is essential and cannot be overlooked in a democratic country like India. Knowing and understanding the law is necessary for every individual across the country. Thus, we can say that legal education plays a vital role in producing highly skilled and efficient legal professionals (lawyers, advocates, judges, etc.) and creating law-persisting citizens with fundamental rights and human values.
Mahindra University BA LLB Hons – The Most Popular Law Course at Undergraduate Level
We can see and observe the ever-increasing scope of law with the help of various reports available everywhere on the internet. According to a report from Research and Markets, the Global Legal Services Market is expected to reach $998.73 billion by 2026. Another report from BLS states that employment in legal occupations will grow 9 per cent from 2020 to 2030, resulting in about 2 Lakhs new jobs. In the forthcoming years, the legal markets shall grow more immensely than ever imagined.
In today's modern and competitive world, the leading companies or business organisations need to cling to or hold on to strict laws, rules or regulations to encourage healthy competition in the local and global markets. As a result, they have a massive demand for legal graduates with excellent knowledge in this domain. Hence, the need for legal graduates capable of managing and handling legal matters or solving emerging legal issues and challenges is in high demand.
For this reason, legal courses are one of the most pursued courses in India among brilliant and young minds. Several well-known colleges and universities in India offer a wide range of legal courses to law aspirants at different academic levels. However, one of the most popular and rewarding legal courses at the bachelor's level is the BA LLB course.
BA LLB is an integrated dual-degree program and the only course to help you fulfil your dream of becoming a skilled and expert legal professional. BA LLB (Hons.) or Bachelor of Arts and Bachelor of Legislative Law Honours is an integrated full-time program of five years. The program provides a multidisciplinary approach to accommodate students to the bare necessities or requirements of the legal fields such as the judiciary, public and private international law, litigation, immigration, policy engagement, etc.
School of Law at Mahindra University – One of the Top BA LLB Colleges in Hyderabad
Hyderabad is one of the most famous and highly opted places for pursuing a legal course. At the same time, several top BA LLB colleges in Hyderabad offer a BA LLB dual degree program to a massive mass of law candidates. However, only the best law institute will help students become what they dream of in today's progressive and newfangled world. One of the top BA LLB colleges in Hyderabad is the School of Law at Mahindra University.
The School of Law at Mahindra University offers law aspirants an integrated five-year BA LLB (Hons.) program. Pursuing Mahindra University BA LLB Hons is highly advantageous for law-pursuing candidates, as the course follows a multidisciplinary approach while emphasising sociological aspects of the law. Below are some benefits you will get by pursuing the Mahindra University BA LLB Hons course.
Unique Perks of Mahindra University BA LLB Hons Course
The School of Law at Mahindra University offers BA LLB students a well-designed course curriculum backed by modern-age learning methods. Students experience practical exposure and a theoretical understanding of legal subjects through a highly diverse curriculum.
Mahindra University BA LLB Hons course aims to train its students in every aspect of their careers. The legacy of the Mahindra group makes the University even more pre-eminent for students to study the BA LLB course. The Law Department at Mahindra University, popularly known as the School of Law, is considered one of the top BA LLB colleges in Hyderabad by students due to many reasons, like:
Industry-focused academics;
Highly-qualified faculty from NLUs and renowned international law schools
Persistently evolving and diverse course curriculum with a global edge
Interdisciplinary classroom to the courtroom learning
Experiential learning through internships, legal aid clinics, and moot courts
World-class research facilities
A well-stocked library
Exception opportunity to hone experience through a robust mentor-mentee programme
Internships and placements support
Field trips to NGOs, jails, charitable institutions
Scholarly research, writing, and publication opportunities
A strong foundation for combined higher studies;
Students-centric campus environment;
Now, let us move to the rewarding career opportunities you will have after the Mahindra University BA LLB Hons course.
The Most Lucrative Career Options After BA LLB Course at Mahindra University
Mahindra University BA LLB Hons course is one of the highly sought-after programmes with a broad scope of endless future opportunities. Students will be exposed to multitudes of promising career options after BA LLB, like:
Legal Advisor
Public Prosecutor
Judge
Lawyer
Advocate
Company Secretary
Step into the Exciting World of Law
BA LLB is a vast and sought-after course with the extreme potential of endless lucrative career opportunities. Therefore, choosing the right institute gives you an edge over the crowd of people having similar degrees. Mahindra University is one such University which has earned an outstanding reputation over the past years, especially in terms of its unique academics and placement records. So enrol in the Mahindra University BA LLB Hons course and embark on your journey of becoming a legal professional!