Is Robotics Taking Away Jobs? | Myths Busted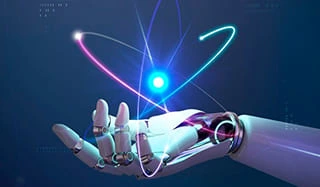 Sophia made news on channels, social media, and print media for being the first humanoid. Attending a meeting at the UN, addressing students at various universities, Sophia made their heads roll. It successfully brought a fresh wave of innovation to the world.
Imagine in a pandemic scenario, going to a restaurant and being served not by humans by robots!
This is happening in Robot Restaurant in Bengaluru.
An army of robots serving several people with rich delicacies with plenty of patience and suggestions/options of a menu with kindness and patience have stood out and amazed one and all.
At the heart of this fantastic experience is Robotics engineering. Robotics has become such a technology that is no longer alien and is making a significant impact in several spheres
Digital Voice Assistants like Siri, Google Assistant, or Alexa the instructions were coming from human voices. Robotics has made these successful devices. Similarly, Google Home is an extension of Robotics and wireless technologies, which provides new-age convenience. With artificial intelligence, and machine learning fundamentals, data is extracted, studied thoroughly, and algorithms are developed to process and execute complex jobs.
Robotics: A New Chapter
There are no two thoughts in saying that robotics brings the generation's revolution in today's time.
Many doubts must have boggled our young minds,
Curious to explore the inherent opportunities lying ahead, there's a bright future yet to unfold.
Robotics is shaping the technological scenario of the country and world at an incredible pace. Now, this brings the professional world into question: How robotics will affect the job market? This is one of the most trending questions of today's time. So, let's answer one of the most trending questions in today's time: How will Robotics engineering affect the job market?
Early Stage Jobs in danger?
Robots can accomplish many repetitive jobs -accurately, at high speed and at least errors- leading to increased efficiency at low cost. Therefore sociologists and economists suspect that automation and robotics will take over many jobs in the coming years. Entrepreneurs are preparing for exploiting Robotics to explore new areas which hitherto have been difficult to execute.
Some of the examples of success using Robotics either individually or in combination with other streams of science are:-
Material handling: Automatics palletising in warehouses, racks and bins.
Loading and delivering molten metals (e.g., high-temperature blast furnace work in steel plant)
Embedding composite materials in 3D printing
Delivery of goods and surveillance in remote areas or enemy territory using Drones
Successful complicated surgeries involving a collaboration of doctors with medical engineers to conduct invasive procedures with optical sensors and remotely controlled devices
With such an array of tasks being successfully demonstrated, there is worry whether jobs that existed in the past (Conventional jobs of 1900) will no longer need human assistance
Initially being a new engineering concept, robotics has its share of doubts, hesitation and scepticism. Doubts of doability like a human mind. The hesitation of repeatability with accuracy. Scepticism if it will work under trying circumstances. There are many concepts and content of skills behind robotics from multiple domains, including software programming and mechanical engineering. As new areas of robotics applications are explored, collaborative efforts are made by domain experts. For example, invasive surgeries are efforts by doctors, engineers to achieve what initially seemed impossible.
Here are the two aspects which will be in great demand in the coming times. They are enlisted as follows:-
Building products: Despite automation in several industries, data shows a rise of startups year on year. Several of these startups have become unicorns. ( 66 currently ). Despite robotisation, data shows more startups and more employment are being generated in the country. India being a young nation with a large middle-class population, it is but natural for the government to pay the way for employment opportunities
Building startups: It can be categorised as follows:-
Content and technology (will be discussed in depth below) are two aspects of the same coin.
Selling the product? With the growing needs of the consumer and ease of logistic operations, one can order or dispatch from the place of residence without getting concerned much about other logistics. The marketing aspect relating to a business is facilitated with the advent of 1. Social Media 2. E-Commerce has created new entrepreneurs across product categories and the length and breadth of the country. Such E-Commerce logistics companies have overcome the problem of both suppliers and consumers needing to travel
This idea of robotics and automation might have brought anxiety amongst many as to how one will sustain in the future of today, which is changing at lightning speed. This brings about genuine questions like how one will cope with the demand for such an advanced skill.
Robotics Engineering, in this situation, is like a ray of hope to the apprehensions of the people.
Robotic Engineering Paving a New Way
As the world changes altogether with the science of robotics, there will be a culmination of a new robotic engineering course, which will embellish their basic skills with relevant qualifications in robotisation.
It is an interdisciplinary course that contains:-
Mechanical Engineering
Electrical Engineering
Computer Science
Computer Engineering
Computer-Aided Drafting & Design and more
Artificial Intelligence and Machine Learning
Not only this, it contains elements of graphics, design and various other aspects.
How one can become a Robotics Engineer
Now, here is a list of a few of the prominent courses which help in imparting training to its students under robotics:-
Bachelor of Technology in Robotics Engineering
Bachelor of Engineering in Robotics Engineering and more
There are master's courses in the vertical as well. Some of them are
Master of Technology in Robotics Engineering
Master of Technology in Automation and Robotics and more,
People will find themselves working in an entirely different domain, automation jobs with exciting responsibilities by pursuing robotic engineering.
Students will be able to find themselves working as:-
Robot engineer,
Research and Development,
Digital Electronics and Microprocessors
Medical Robotics
Artificial Intelligence
People get to work on integrating peripheral systems, maintaining robots, analysing and evaluating robotics systems, assisting in calibrating the system, and more.
So the next time you see a driverless car, don't be surprised as now you know the science working behind it.
In addition, Mahindra University will undertake collaborative projects with industry and other academic institutions. For example, under The Center for Entrepreneurship and Innovation is FAVO Construction Technologies Pvt Ltd. A team of three, Siri Chandana Vodela, Shiva Bhisne and Gaayatri Yarlagadda, alumni of Mahindra École Centrale, started up Favo Robotics in 2018 incubated at Mahindra E-Hub. They are a robotics startup based out of Hyderabad, India, making construction automation accessible by providing affordable automation solutions to the construction industry to increase productivity and reduce the cost of construction. The university encourages such innovations in robotics to their maximum.