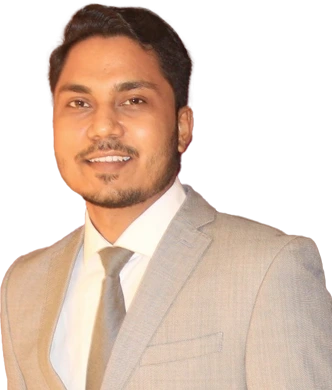 Prashant Kumar Gupta
prashant.gupta@mahindrauniversity.edu.in
Prashant Kumar Gupta holds a Ph.D. in finance from IIT Delhi (2022) and has pursued his MBA from BIT Mesra. Professionally, he was associated with ISB, Hyderabad, in the capacity of an academic associate (2017). He also headed the academic team at PIBM Pune, ranked amongst the top-10 upcoming B-Schools in India by Forbes (2016).
He has published in journals indexed with ABDC and Scopus. The papers can be accessed at https://www.researchgate.net/profile/Prashant-Gupta-69. He also presented papers at two international conferences and won the best paper award at his first conference presentation. His research has also been selected amongst the ten articles for presentation in the finance track at IIM Vishakhapatnam's first doctoral colloquium.
As a member of the CBSE Jharkhand state school basketball team, he won the national level tournament- MHRAT. As a trainer of Art of Living since 2011, he has organised and taught various Art of Living programs at educational institutions like IIT Delhi, IIT Patna, IIT Dhanbad, IIM Ranchi, NUSRL Ranchi and BIT Mesra. He has also introduced spirituality, meditation and yoga to prisoners of Tihar and Hotwar jails.
2017 - 2022
Ph.D in Finance from IIT Delhi (Finance, Dept. of Management) [2017 – 2022]
2011 -2013
MBA (Finance and Marketing) from BIT Mesra [2011 – 2013]
2008 - 2011
B.Com (Accounts Hons.) from St. Xaviers, Ranchi [2008 – 2011]
Intermediate from DAV Hehal, Ranchi (CBSE) [2008]
2006
Matriculation from St. Anthonys School, Ranchi (ICSE) [2006]
2022
Assistant Professor, Mahindra University, Hyderabad [July 2022 – Current]
2017
Academic Associate, ISB Hyderabad [March 2017 – July 2017]
Assistant Professor, PSIT Kanpur [November 2016 – February 2017]
2013 - 2016
Assistant Professor & Batch Incharge, PIBM Pune [July 2013 – November 2016]
2022
Gupta, P.K. and Sharma, S. (2022), "Corporate governance determinants of asset quality in an emerging economy: evidence from Indian banks", Journal of Advances in Management Research, Vol. 19 No. 4, pp. 560-577. https://doi.org/10.1108/JAMR-05-2021-0182.
Gupta, P.K. and Sharma, S. (2022), "Role of corporate governance in asset quality of banks: comparison between government-owned and private banks", Managerial Finance, Vol. ahead-of-print No. ahead-of-print. https://doi.org/10.1108/MF-04-2022-0165
2021
Current research interests are asset quality in banks, fintech, Digital Currency, and Digital Payments