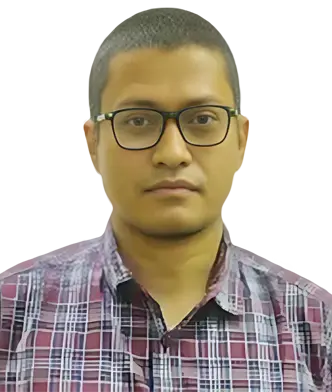 S. Ghosh
Associate Professor
Centre for Life Sciences
Biosensing and molecular diagnosis have a market size of USD 29 billion (2023) and are considered an area with enormous growth and commercial potential (CAGR 8%). This multidisciplinary field requires inputs from chemists, biologists, clinicians, physicists, electronics, and mechanical engineers. Dr Ghosh closely works with several collaborators from these fields and tries to build novel assays to enable and develop biosensing devices with biomedical, agricultural, and environmental applications.
Ph.D. (2009 – 2015)
Johns Hopkins University, Baltimore, USA
M.Sc. (2006 – 2008)
Indian Institute of Technology Madras, Chennai, India
B.Sc. (2003 – 2006)
Ramakrishna Mission Residential College Narendrapur (University of Calcutta), Kolkata, West Bengal, India
2023 – now
Associate Professor (2023 – now); Centre for Life Sciences, Mahindra University, Hyderabad, India
2022 – 2023
Scientist D (2022 – 2023); UGC-DAE CSR Kolkata Centre, Kolkata, India
2021 – 2022
Associate Professor (2021 – 2022); Bennett University, Greater Noida, India
2016 – 2021
Assistant Professor (2016 – 2021); Bennett University, Greater Noida, India
2015 – 2016
Postdoctoral Researcher (2015 – 2016); Cornell University, Ithaca, NY
2023
S Tripathy, T Agarkar, A Talukdar, M Sengupta, A Kumar*, S Ghosh**. Evaluation of indirect sequence-specific magneto-extraction-aided LAMP for fluorescence and electrochemical SARS-CoV-2 nucleic acid detection. Talanta. 2023, 252, 123809.
2022
T Agarkar, VK Nair, S Tripathy, V Chawla, S Ghosh, A Kumar.* Oxygen Vacancy Modulated MnO2 Bi-Electrode System for Attomole-Level Pathogen Nucleic Acid Sequence Detection, Electrochim Acta, 2022, 407, 139876.
S Tripathy, A Talukdar, PV Rajesh, G Pramanik*, S Ghosh*. Limited-Resource Preparable Chitosan Magnetic Particles for Extracting Amplification-Ready Nucleic Acid from Complex Biofluid. Analyst, 2022, 147, 165.
T Agarkar, S Tripathy, V Chawla, M Sengupta, S Ghosh*, A Kumar**. A batch processed titanium-vanadium oxide nanocomposite based solid-state electrochemical sensor for zeptomolar nucleic acid detection. Analytical Methods, 2022, 14, 4495.
S Kumar, A Kharb, A Vazirani, RS Chauhan, G Pramanik, M Sengupta, S Ghosh*. Nucleic acid extraction from complex biofluid using toothpick-actuated over-the-counter medical-grade cotton. Bioorg Med Chem. 2022, 73, 117009.
VK Nair, C Sharma, M Sengupta, S Ghosh*. Mitigating the Non-Specific Amplification in RCA: Assessment of the Role of Ligation and Exonuclease Digestion in Circular DNA Preparation. [in Revision]
2017
Long MJC, Poganik JR, Ghosh S, Aye Y. Subcellular Redox Targeting: Bridging In Vitro And In Vivo Chemical Biology. ACS Chem Biol. 2017, 12, 586-600.
2015
Xu W, Ouellette A, Ghosh S, O'Neill TC, Greenberg MM, Zhao L. Mutagenic Bypass Of An Oxidized Abasic Lesion-Induced DNA Interstrand Cross-Link Analogue By Human Translesion Synthesis DNA Polymerases. Biochemistry. 2015, 54, 7409-7422.
Xu W, Ghosh S, Ouellette A, Greenberg MM, Zhao L. Replication dependent DNA repair of DNA interstrand cross-links by human translesion DNA polymerases. Abstracts of Papers of the American Chemical Society. Volume 250 (conference presentation)
Ghosh, S.; Greenberg, M. M., Correlation of Thermal Stability and Structural Distortion of DNA Interstrand Cross-Links Produced from Oxidized Abasic Sites with Their Selective Formation and Repair. Biochemistry. 2015, 54, 6274-6283.
2014
Ghosh, S., Greenberg, M. M., Nucleotide Excision Repair Of Chemically Stabilized Analogues Of DNA Interstrand Cross-Links Produced From Oxidized Abasic Sites. Biochemistry 2014, 53, 5958-5965.
Ghosh, S., Greenberg, M. M., Synthesis of Cross-Linked DNA Containing Oxidized Abasic Site Analogues. J. Org. Chem. 2014, 79, 5948 - 5957. [**Featured article]
George, C., Ghosh, S., Chandrakumar, N., 29Si NMR-Transition Selective Double Quantum Filter Experiments In One And Two Dimensions. Future Directions in NMR; Editors: Khetrapal, C. L.; Kumar, A.; Ramanathan, K. V.; Springer, 2014, pp 231-237. (ISBN 978-81-8489-995-5)
Dr. Ghosh's research lab currently focuses on the following areas;
Instrument and method development to enable field-based near-point-of-care detection of pathogens
Assay development for elucidating molecular DNA damage pathways
Method development to better understand host-pathogen interaction at the molecular level
Live biosensors