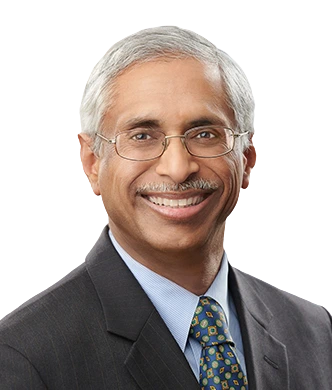 Yegneswaran Kumar is the Senior Vice President & Chief Financial Officer, Finance, Legal and Technology for GS1 US. His responsibilities include the financial strategy and performance of the organization, financial controls, and investment fund performance oversight. He also has responsibility for oversight of the Legal Department, Product Management, Enterprise Program Management Office. He also has fiduciary responsibilities as Corporate Secretary and is involved in Board membership and governance matters.
Mr. Kumar has more than 30 years of finance experience in global companies. Prior to joining GS1 US in July 2005, he worked for Johnson Diversey, a global manufacturing company, serving as Finance Director–Supply Chain for its North American operations. Previously, he served in different capacities at Black & Decker in the Middle East and the U.S., lastly as Director–Financial Planning & Analysis for its flagship power tools business. Prior to that, he worked for Unilever in India.
Mr. Kumar holds an undergraduate degree from Madras University, India, a Master of Business Administration (MBA) from the Indian Institute of Management, Ahmedabad, India, and professional accreditation as a Chartered Accountant in India. After migrating to the U.S., Kumar obtained his Certified Public Accountant (CPA) and Chartered Financial Analyst (CFA) accreditations.